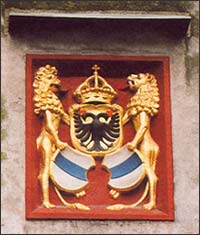 Clock tower of Zug
The tower was built in the mid 13th century simply as a passage-way through the oldest part of the town wall of Zug, founded by the noble Kyburg family. From 1478 to 1480 Hans Felder, the master-builder of St. Oswald's Church, extended the buttressed shell of the tower, adding side-battlements and a turreted pent-roof inclined on one side towards the town, so making it the town's most significant tower.
In 1557 the tower was given its present shape with the watch chamber, the turret-shaped bays and the steep hipped roof. In 1574 the clock was installed. The clock tower has been repeatedly restored and enhanced. After being struck by lightning in 1863, it was given a new helm roof crowned with a gilded ball. The most recent restoration took place in 1952 on occasion of the centenary celebrations of the founding of the canton of Zug. Restoration 1953-55.
Inside the tower you find a collection of historic tools from the local fire brigade. You see the back of the astrological clock. The biggest reward though is the view once you reach the top chamber which is furnished with a large table and benches.